ATEC Partnership to Provide CompEx and IECEx RTP Training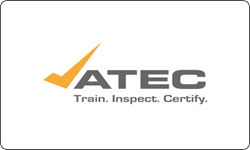 The ATEC Training Academy - Middle East
Scope Extension in partnership with Proclad Academy - Dubai
ATEC - The leading international provider of Hazardous Area "Ex" Training and Inspection Services, has extended their delivery scope to also include IECEx CoPC Training, and a range of Technical Skills Training within the Proclad Academy in Dubai, along with the CompEx Scheme. The ATEC Training Academy is the largest and most prominent provider of CompEx globally and is a progressive IECEx RTP. 
With demand increasing in the region, the IECEx Certificate of Personnel Competencies (CoPC) is an important new offering regionally.
The training facilities at the Proclad Academy is considered one of the best in the region and will ensure clients receive the most up to date hands-on training in a modern state-of-the-art environment.
The move represents ATEC's continued commitment to meet the demand of global contracts, and further establishes their commitment in the Middle East. With a strengthened regional presence and local expertise, ATEC are supporting their clients with their full range of services from this base to ensure a cost-effective solution is available in the region.
Securing business relationships with oil and gas operators, EPC contractors and other industry sectors, ATEC is in a strong position to ensure its clients receive full turnkey services with Hazardous Training and a full range of EX Inspection Services. 
ATEC's clients strive for leaner costs, quality services, and an effective alliance to reduce down-time and carry out safe operations. The continued development within this important area is in line with ensuring the industries are supported by our group in the correct geographical locations.
About ATEC: Part of the Eutex International group of companies dedicated to providing specialised safety training and inspection services for organisations who deal with the world of Potentially Explosive Atmospheres. With Sales offices, distribution facilities, training & Inspection Centers in USA, Canada, Singapore, Dubai, India, Myanmar, Brunei, Thailand & Australia the group is dedicated to the safety of personnel and asset protection, by supplying International NEC/IEC Electrical Cables & Hazardous Area Accessories, IEC, NEC & ATEX competency training, including CompEx & IECEx assessments, facility compliance certification and certified equipment inspection services.   
About PROCLAD Academy:  A wholly owned subsidiary of Proclad Group, incorporated by the TechnoPark authority in Dubai. Proclad Academy is an independent, innovative and top-quality training & management consultancy, providing corporate and vocational training & consultancy services worldwide covering a diverse range of business. Proclad Academy strives to assist clients to develop their human capital in a range of management and technical topics, using an ever-expanding portfolio of training courses. Proclad Academy also boasts a state-of-the-art facility consisting function rooms of varying specifications and capacities that are ideal for hosting corporate retreat, technical/non-technical training, meetings or a gathering of senior executives. The facility also includes two high-tech computer labs with 25 computers each.